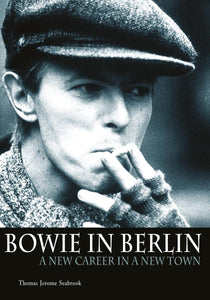 Delve into the iconic era of David Bowie's Berlin years with 'Bowie in Berlin: A New Career in a New Town.' This captivating book takes you on a journey through Bowie's transformative period, exploring his creative process, personal growth, and the musical innovation that emerged during his time in the vibrant city.
Written by Thomas Jerome Seabrook, 'Bowie in Berlin' offers a comprehensive and insightful account of Bowie's experiences in Berlin, shedding light on the cultural and historical backdrop that influenced his artistic direction. Through in-depth research and interviews, Seabrook uncovers the stories behind Bowie's most iconic albums, including "Low," "Heroes," and "Lodger."
This book provides a rich exploration of Bowie's collaboration with legendary musicians Brian Eno and Tony Visconti, as well as the experimental nature of the Berlin music scene that inspired him. It offers a deep dive into the creative process, showcasing Bowie's fearless exploration of new sounds, genres, and artistic boundaries.
Whether you're a Bowie aficionado, a music lover, or simply interested in the cultural impact of one of the most influential artists of our time, 'Bowie in Berlin: A New Career in a New Town' is a must-read. Gain a fresh perspective on Bowie's evolution and immerse yourself in the dynamic and transformative period that shaped his iconic sound and image.
Publisher: ‎Jawbone; Illustrated edition (1 Feb. 2008)
Language: ‎English
Paperback: ‎320 pages
Dimensions: ‎15.24 x 2.54 x 21.59 cm